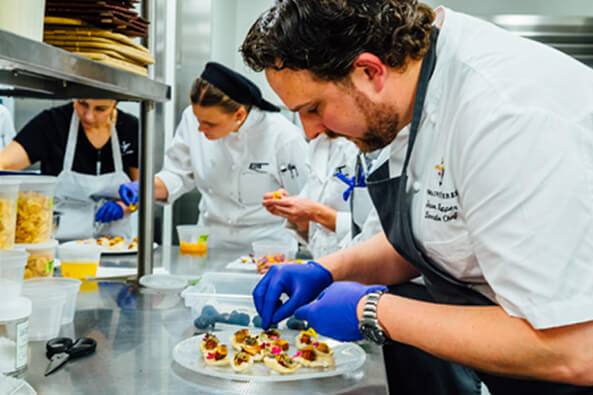 By Rebekah Bell on December 14, 2018
Considered a delicacy around the globe, truffles are typically thinly shaved and then sprinkled over pasta to add an earthy flavor. Because it's hard to grow the fungus outside of its natural habitat (primarily France, Italy, and Spain), truffles can be priced at over $3,600 a pound. But thankfully, you don't have to go all the way to Europe to sample the tasty treasures.
In the coming weeks, you can forage for your own truffles (and try both the black and white versions) at the Oregon Truffle Festival in the Willamette Valley, an up-and-coming truffle region located an hour from Portland. Organized by a non-profit that promotes the state's native truffle industry, the 14th annual festival (which takes place January 24–27 and February 15–17) will be helmed by an expert lineup of chefs, speakers, and foragers. Attendees can participate in hands-on foraging experiences, delectable dinners and lavish lunches, cooking classes, and a truffle marketplace—after all, what's the point of going to a truffle festival if you can't take some of the pungent treasures home for your friends?
Celebrated chefs dish up the state's bounty year-round.
August 30, 2018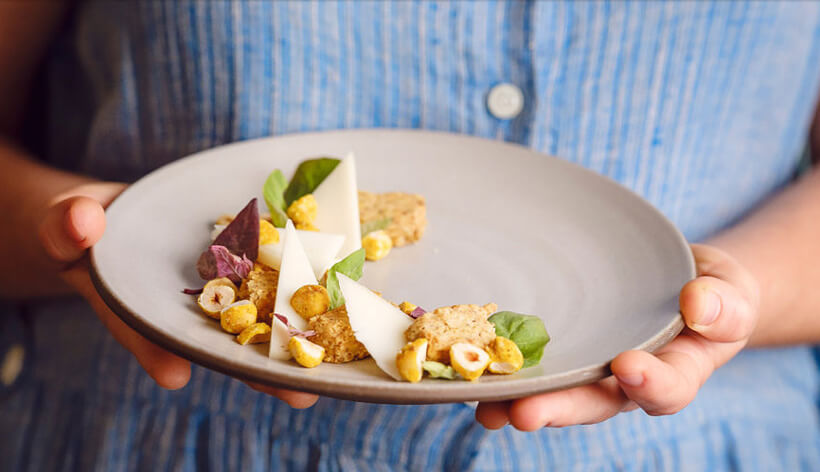 Portland is widely regarded as one of America's greatest food cities, but that's due in large part to what lies beyond city limits: Oregon's farm-fresh abundance.
Home to evergreen forests, arid deserts, snowy peaks, grassy prairies, rocky coastlines and almost every ecosystem in between, this sprawling state is a wonderland of potential ingredients. Our bounty — from grass-fed beef in Eastern Oregon to sweet Dungeness crab harvested from beds of eelgrass off the Coast —feeds an ever-evolving and growing dining scene, permanently enshrining its place amongst the upper echelons of culinary destinations.
I sat down with five Portland chefs to talk about Oregon's food scene and their love affair with five of the state's most defining ingredients.
Read entire article by Samantha Bakall and see more photos by NashCO Photo at Travel Oregon.
By John Blackstone, CBS News
A TASTE OF SUMMER is again on our morning menu: a delicacy harvested by trained scavengers, as John Blackstone will show us:
By Tracy Ellen Beard
April 17, 2018
Whispers of excitement filled the air as 300 people stood crowded in the foyer of the Hilton Eugene waiting to enter the Playwright Ballroom. This January, I stood among the crowd anxiously anticipating the beginning of the event, the Grand Truffle Dinner. For more than a decade, founders Charles Lefevre and his wife Leslie Scott have hosted the Oregon Truffle Festival in Eugene, Oregon.
Read the entire article at Wander with Wonder.
YOUR NEXT SERVING OF TRUFFLES SHOULD BE FROM OREGON
In 1977, chef James Beard declared that Oregon truffles were every bit as good as European ones — a bold if patriotic statement coming from America's first foodie. Slowly but surely, gourmands seem to be embracing the idea. There's even an annual festival celebrating the Oregonian tuber.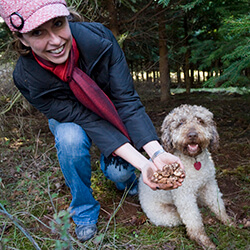 THE TRUFFLE SHUFFLE
Do Some Serious Gourmet Mushroom Hunting in Eugene
How to search for—and eat—the best of Pacific Northwest mushrooms and truffles.
Every January, the Oregon Truffle Festival spreads mushroom mania through two long weekends—January 25–28 in Eugene, then February 16–18 in the wine country of Yamhill Valley. The festival offers the three basic elements to becoming a fungus connoisseur.
WHY Fungus education, cute pups on the hunt, and James Beard–worthy dining.
WHEN The festival runs two weekends in January and February, but Oregon's four truffles mature around the calendar.
INDULGE The easiest way to prepare truffles is sliced over macaroni and cheese—the festival even holds a Truffle MacDown cooking contest.
Read entire piece @ Seattle Met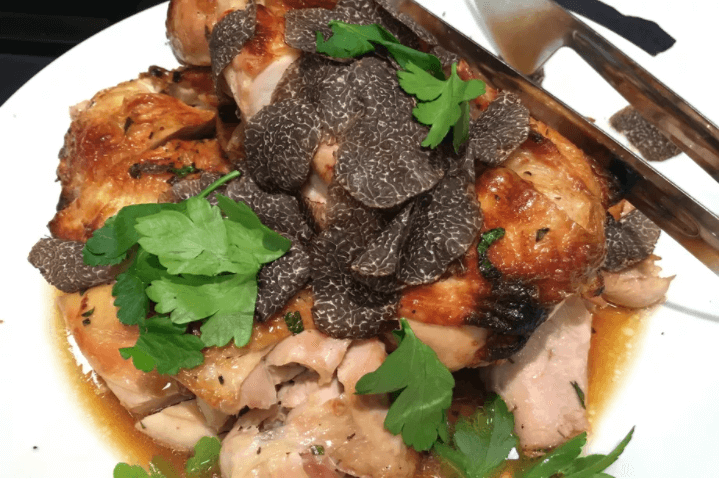 Tickets are going fast, but there are still ways to taste Oregon's native white and black truffles
One of the world's rarest cooking ingredients, white and black truffles, 
grow in spades
 in Oregon, and for the past 13 years, the Oregon Truffle Festival has connected eaters with the aromatic tubers. With tickets going fast, here's what you need to know to get the most out of the 2018 event:
While almost everyone's tried truffle oil, which is usually one note and fake, real truffles bring something new to the plate: a full bouquet of aromas as unique as the stretch of Oregon land upon which they grew. There's no comparison, from native Oregon black truffles with tropical fruit aromas, to native Oregon white truffles, known for musk, garlic, and something just beyond description.
It's impossible to cultivate many truffle varieties and difficult to preserve them, with fresh truffles having a shelf life of 10 days or less. Many varieties are only available a few months out of the year, too. The fact several culinary truffles grow in Oregon shouldn't be squandered. It's a chance to try the rare tuber without booking a flight to Europe or Australia.
Though most famous in Europe, Oregon is making a name for itself with this culinary delicacy. Learn the crucial role dogs play in finding the best truffles.
Make a list of the most indulgent foods out there, and truffles will likely be near the top. Part of that reputation is due to price. The pungent, misshapen delicacies can sell for as much as $1,000 per pound, but their rarity and unique taste are what allow them to command such a fee. Truffles are full of the savory flavor profile known as umami. These flavors are complex and can evolve, much like wine.
The best-known truffles are Périgord and Alba, native to France and Italy, respectively. But other regions less associated with the delicacy have begun harvesting their own truffles, and are worth seeking out in part because they're often less expensive than their European counterparts.
Read entire piece, with a focus on wine pairings, by Sophia McDonald Bennett of Wine Enthusiast.
It begins with a snap of the head. A little dog circles, nose to the ground, then turns back. It catches the scent again and snorts.
Tiny paws dig in the loose duff. Suddenly, a small white lump is upturned. "Good girl!" cries Melanie Fast, the little dog's owner.
Melanie lifts the new find to her nose and inhales. "There's a mushroom smell there, just a really fresh earthiness, fruity, nutty." She pauses, searches for more words and then laughs. "I can't get enough of it!"
In her hand is a truffle. Specifically, an Oregon winter white. To be honest, it doesn't look like much to get excited about: think of a soft, stinky golf ball-shaped lump of fungus. But to chefs and truffle aficionados — this find is culinary gold.
See video piece by OPB here.
Read entire article here.
North America's premier truffle celebration welcomes chefs, speakers and foragers from near and far for two truffle-filled weekends: January 25 – 28, 2018 and February 16 – 18, 2018
Portland, Ore. (November 7, 2017) — The Oregon Truffle Festival, North America's premier truffle celebration and a nonprofit organization promoting the state's native truffle industry, announces the full lineup of chefs, speakers and foragers for its upcoming festival. The events span two weekends in early 2018: January 25 – 28 in Eugene and February 16 – 18 in the Yamhill Valley.
The Oregon Truffle Festival's Eugene and Surrounds Weekend centers around the scientific and agricultural aspects of the truffle industry. The January weekend opens with a truffle dog competition, the Joriad™ North American Truffle Dog Championship on January 25, wherein spectators cheer for teams of truffle dogs and their trainers as they race to search for hidden truffle-scented targets. On January 26, attendees of the Truffle Dog Training Seminar bring their dogs to truffle hunting school with a two-day event culminating in an authentic hunt for truffles in the wild. Most student dogs find their first truffles at this event.
A marquee event in Eugene is the two-day Truffle Growers' Forum, gathering industry experts and growers from around the world to review the latest truffle cultivation research and catch up with developments in the global industry. In 2018, the focus returns to France, which remains the world's leader in truffle production. The 2018 speakers include Dr. Christophe Robin, Senior Scientist at INRA and Director of the "Agronomie et Environnement" research lab at the Université de Lorraine; Peter Oviatt, PhD researcher at MIT; Dr. Shannon Berch, a researcher for the Government of British Columbia; Brian Malone, vineyard and truffle orchard manager from Jackson Family Wines; and Dr. Charles Lefevre of New World Truffieres.
In addition to mycological revelations, the January weekend promises decadent dinners and luncheons, cooking classes, a fresh truffle marketplace, and more. The iconic Grand Truffle Dinner welcomes chefs Eduardo Jordan (Salare and Junebaby, Seattle, WA), Paul Virant (Vie and Vistro, Western Spring, IL), Carlo Lamagna (Magna, Portland, OR), and Kim Boyce (Bake Shop Portland, OR), among others, for a six-course dinner paired with Oregon wines. The full lineup of chefs for both weekends can be found below.
The second annual Oregon Truffle MacDown competition elevated this comfort food to new heights, with renditions from Anh Luu (Tapalaya, Portland, OR), Robin Jackson (Two Birds, British Columbia, Canada), Kevin Linde (Pronghorn Resort, Bend, OR), and others. Tickets to the Oregon Truffle MacDown are included in the full weekend packages (available here), or can be purchased à la carte ($120). The January weekend closes with the Fresh Truffle Marketplace, offering native Oregon truffles for sale, wine tastings, artisan food sampling, truffle cooking demonstrations, and more.
The Yamhill Valley Weekend, taking place over Presidents' Day Weekend from February 16 to 18, pays homage to Oregon truffle champion and native Oregonian James Beard, through film, food, conversation, and a truffle hunt in wine country. Locally-based James Beard Award-winning and nominated chefs, such as Vitaly Paley (Paley's Place, Headwaters), Naomi Pomeroy (Beast), Cathy Whims (Nostrana, Oven & Shaker), and Ken Forkish (Ken's Artisan Bakery, Trifecta), bring James Beards' legacy to life over three days in the Willamette Valley.
A showing of "James Beard: America's First Foodie," and a subsequent Q & A with Director Beth Federici and Producer Kathleen Squires sets the tone for the weekend, followed by two concurrent truffle dinners at The Joel Palmer House (available à la carte) and Ruddick/Wood (for weekend ticket holders). On Saturday, February 17, weekend ticket-holders will join a morning truffle hunt led by professional truffle hunters and their dogs, followed by a winery luncheon at Gran Moraine or Brooks Wines. The day closes with a rosé release, followed by a four-course dinner at Domaine Serene.
Celebrating the Willamette Valley's most well-known variety, the Yamhill Valley Weekend closes on Sunday with Pinot Noir + Chocolate, a walk-around tasting with some of the region's top producers. Mirroring Eugene's Sunday event, the Newberg Fresh Truffle Marketplace brings together regional wines, artisan foods, and fresh truffles—all related to the vibrant Oregon truffle industry.
Now operating as a nonprofit (new for 2018), the Oregon Truffle Festival intends to expand its programming to year-round culinary, educational and training opportunities to further promote and support Oregon's native truffle industry.
The Oregon Truffle Festival is made possible with generous support from 1859 Oregon's Magazine, 1889 Washington's Magazine, Chehalem Valley Chamber of Commerce, Chehalem Cultural Center, Domaine Serene, Hilton Eugene, and Willamette Valley Vineyards. Additional support comes from Alesong Brewing, Angela Estate, Bolted Services, Brooks Wines, Capitello Wines, DRY Sparkling, Eugene Cascades & Coast, The Falls Event Center, Food for Lane County, Marché, Gran Moraine Winery, Heritage Spirits, Illahe Vineyards, King Estate, Oregon Wine Lab, Oregon Wine Press, New World Truffieres, Ninkasi Brewing, Pfeiffer Winery, Red Hills Market, Ruddick/Wood, Travel Oregon, Visit McMinnville, and Wildcraft Cider Works.
Full Chef Lineup
January Weekend: January 25 – 28, 2018 (Eugene, Oregon)
Paul Virant, Vie and Vistro (Western Spring, IL)
Edouardo Jordan, Salare and Junebaby (Seattle, WA)
Carlo Lamagna, Magna (Portland, OR)
Shota Nakajima, Adana (Seattle, WA)
Sarah Schafer, Irving Street Kitchen (Portland, OR)
Kim Boyce, Bake Shop (Portland, OR)
Jonathan Hoffman, Chefs Table (Cannon Beach, OR)
Anh Luu, Tapalaya (Portland, OR)
Tiffany Norton & Mark Kosmicki, Party Downtown (Eugene, OR)
Chris Crosthwaite, The Ominvore's Kitchen & Lane Community College (Eugene, OR)
Jeffery Hardinger, The Davis (Eugene, OR)
Tobi Sovak and Michael Landsberg, Noisette Pastry Kitchen (Eugene, OR)
Kevin Linde, Pronghorn Resort (Bend, OR)
Robin Jackson, Two Birds (British Columbia, Canada)
Rocky Maselli, Marché (Eugene, OR)
David Sapp, Park Kitchen (Portland, OR)
Shane Tracy & Andrew Francisco, King Estate (Eugene, OR)
Bob Pfaff, Left Coast Cellars (Rickreall, OR)
February Weekend: February 16 – 18, 2018 (Yamhil Valley, Oregon)
Vitaly Paley, Paley's Place, Headwaters (Portland, OR)
Naomi Pomeroy, Beast (Portland, OR)
Cathy Whims, Nostrana, Oven & Shaker (Portland, OR)
Ken Forkish, Ken's Artisan Bakery, Trifecta Tavern (Portland, OR)
Christopher Czarnecki, Joel Palmer House (Dayton, OR)
Paul Losch, Ruddick/Wood (Newberg, OR)
Mike Delaney, Gran Moraine Winery (Carlton, OR)
Abby McManigle, Brooks Wines (Amity, OR)
Dana Packard Dooley, Honest Chocolates (Newberg, OR)
Jason Kupper, Domaine Serene (Dundee, OR)
John Newman, Newman's at 988 (Cannon Beach, OR)
ABOUT THE OREGON TRUFFLE FESTIVAL
The Oregon Truffle Festival is North America's premier event for truffle appreciation and education. Held every winter in the Willamette Valley, it attracts thousands of culinary travelers, chefs, growers, dog trainers, scientists and journalists from all over the globe for a series of dynamic and participatory events. The festival was founded in 2006 by renowned mycologist Dr. Charles K. Lefevre and his wife, Leslie Scott, and is run in partnership with Culinary Director Charles Ruff. Dr. Lefevre is also the founder of New World Truffieres, a company specializing in truffle cultivation. Now in its 13th year, the Oregon Truffle Festival is operating as a 501(c)3 nonprofit organization. The 2018 Oregon Truffle Festival will be held in Eugene from January 25 – 28, and Yamhill Valley from February 16 – 18, 2018. Follow the Oregon Truffle Festival on Facebook, Instagram and Twitter for updates.
# # #
Media Contact:
Kayt Mathers
(503) 351-6572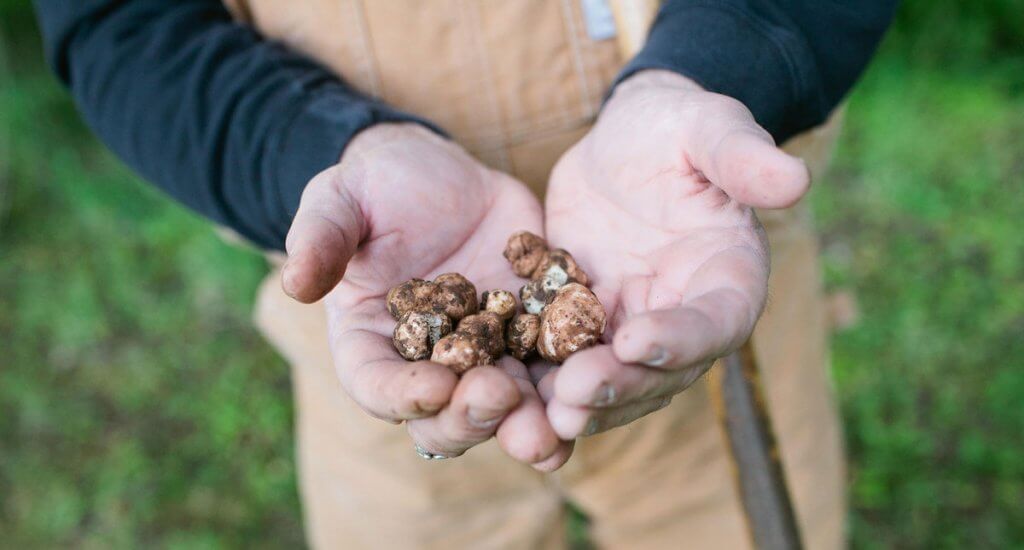 "There effectively isn't a truffle-harvesting industry anywhere else in the United States. Oregon owns the brand."
When it comes to truffles, only Oregon matters.
This year, Oregon became the only place in the world to sell both homegrown versions of Old World truffles alongside its own native truffle, when farmer Pat Long sold his first crop of cultivated French black truffles, which he'd planted on his nearby hazelnut "It's unique on the planet," says mycologist and Oregon Truffle Festival organizer Charles Lefevre. "There is no other place where there are both native species and cultivated European species."
Like the French truffles, Oregon's native truffles are so prized by chefs and chocolatiers alike they can fetch up to $800 a pound. This month is the apex of the season, with both black and white truffles in abundance.
Oregon and the surrounding Pacific Northwest are the only places truffles grow in America—and account for up to one-third of the truffles we eat nationwide, even when you factor in French and Italian imports. While you aren't likely to find them inside Portland, forests throughout the Willamette Valley and Columbia Gorge are thick with the valuable mushrooms growing on tree roots—anywhere Douglas firs are found.
Read the entire article here.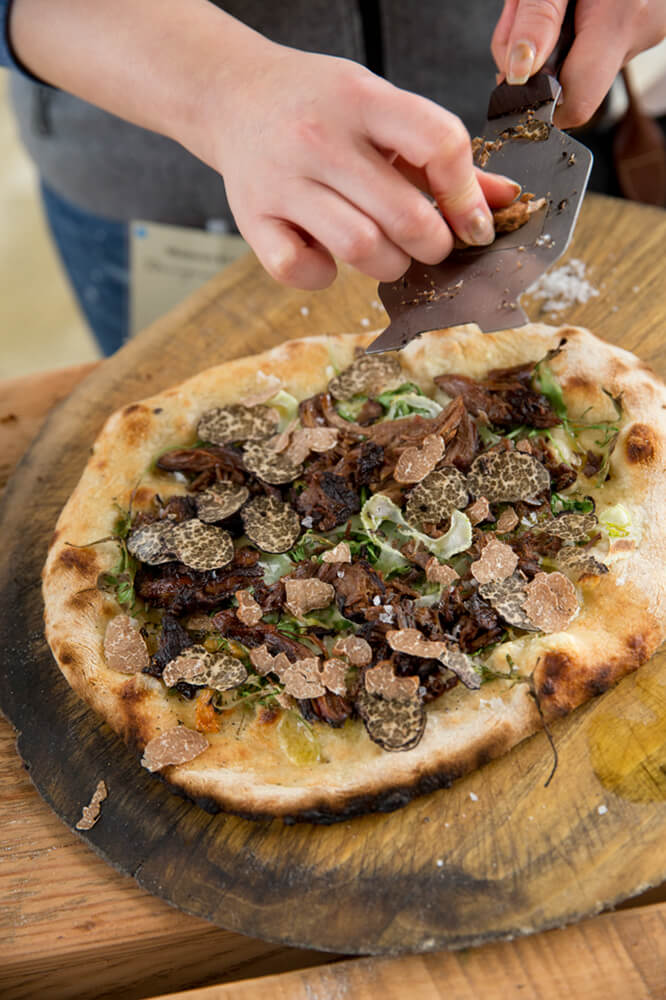 This celebration of the coveted fungus includes dinners, cooking classes, and truffle dog training.
BY JEREMY REPANICH ON OCTOBER 23, 2017
For two weekends this winter in Oregon, people from around America will gather to celebrate the elusive delicacy—the truffle. There will be truffle-focused gala dinners, cooking classes, grower forums, a marketplace, and even a competition where you can watch dogs hunt for the coveted fungus.
The festival's first weekend—which takes place January 26 to 28 in Eugene, Ore.,about 100 miles south of Portland—will be a study of the Pacific Northwest truffle industry, bringing together cultivators and aficionados for several events, including the Growers' Forum and a six-course gala dinner. In addition to the Joriad North American Truffle Dog Championships, you can enter your pup into a 2-day class to train them to hunt truffles with instructor Jim Sanford of Blackberry Farm. And at the Oregon Truffle Mac Down, acclaimed chefs will create high-low dishes, elevating comfort-food favorites with white and black truffles.
Read the entire article and see related links here.
.