Charles Lefevre inoculates trees with fungi that produce truffles.
While the technical craft of Charles Lefevre's job is complex, the purpose is simple: Encouraging the natural symbiosis between trees and fungi.
In Lef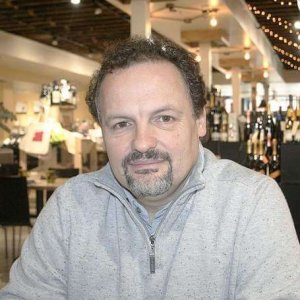 evre's case, the fungi are of the Tuber genus, which produce highly sought-after truffles and colonize the roots of numerous tree species.
Truffles are known for their culinary desirability and high cost, but the primary role of the fungus is as an extension of the tree's root system, helping it absorb water and nutrients. In exchange, it's supplied with starches and sugars for growth.
The Oregon Truffle Festival Celebrates Everyone's Favorite Fungus.
Three terrific, truffle-filled weekends coming in January.
By Don Root
They're strangely neither plants nor animals, but as every chef knows, fungi are indispensable partners in the kitchen. The mushrooms in your spaghetti sauce? Fungi. The yeast in your bread? Fungi. The bleu in your bleu cheese? You guessed it. And in the culinary realm, one fungus stands out, exalted above all others: the truffle. Top European specimens of this flavor-packed delicacy routinely fetch around $4,500 per pound.
In January, truffle fans will celebrate the undisputed Dom Perignon of the fungus world at the 11th annual Oregon Truffle Festival, which offers three weekends of events in and outside of Eugene. It's a veritable "Truffle Summit," acknowledging our region's increasingly lofty place in World Truffledom. Some 40 distinguished chefs from the Pacific Northwest and Brittish Columbia will be participating, and a host of guest truffle experts will be on hand.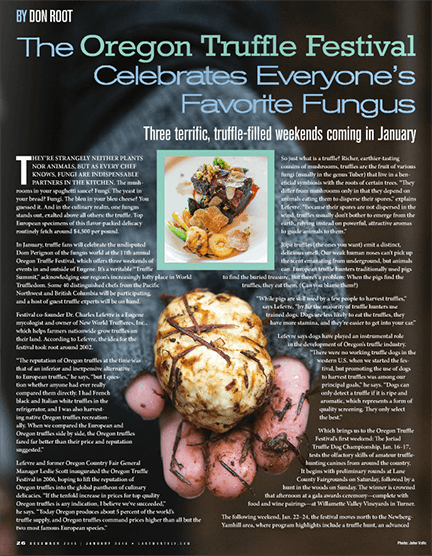 By Ann Carranza

Cultivating truffles in Sonoma County? It has been an intriguing idea since Henry Trione first explored it with his friend J. Ralph Stone in the 1970s. But growing truffles in Sonoma County didn't gain much traction until now.
Serendipitously, Fran Angerer, 68, and his son, Nathan, 36, became intrigued by the idea at about the same time a few years ago. Fran saw an article in a local paper about William Griner, who had planted truffle trees in Mendocino County, at the same time that Nathan was intrigued by an article on the subject in GQ magazine. After much exploration and study, in 2011 they planted hazelnut trees inoculated with truffle spores on a parcel of land in Geyserville.
Native truffles and Oregon wine, the focus and future of 10-year festival
By Hilary Berg
Some things are just better together. Peanut butter and jelly. Batman and Robin. Macaroni and cheese.
Wine and truffles.
Now this is an exceptional pair, especially in the Willamette Valley, where Dr. Charles Lefevre and Leslie Scott, owners of New World Truffieres, have been betting on the culinary combination since launching the Oregon Truffle Festival 10 years ago.
Krista Simmons blogs about her visit to the Oregon Truffle Festival…
Truffles are one of the world's most expensive luxury foods out there, rivaling foie gras and caviar. You might be aware of their high price tags, but did you know that there are truffles that are native to the United States? Or that any dog breed can be trained to hunt them? (My little buddy Bento just might have a new job soon.)
I traveled to Eugene, Oregon for the Oregon Truffle Festival and the first ever Joriad truffle dog competition to learn about the blossoming American truffle industry, and compiled a quick video with 5 fun facts you might not know about these umami-rich mushrooms. Take that to trivia night!
The Truffle Hunt | Original Fare | PBS Food
Tuscany, Piedmont, Périgord . . . and the Willamette Valley? The truffle, hailed as the "diamond of the kitchen," isn't just a European indulgence. Mycologist Charles Lefevre aims to prove that Northwest tubers can stand up to—or even surpass—their old-world counterparts. He brings together truffle hunters, prominent chefs, and diners at the Oregon Truffle Festival, running this year from January 15 to 18 in Portland and Yamhill, and January 21 to 25 in Eugene.
10th annual truffle festival features native and French varieties, and numerous events
Go truffle hunting with a trained truffle dog or bring your own canine for truffle-dog training sessions and an amateur truffle-dog competition during the 10th Annual Oregon Truffle Festival.
Read more in Alaska Airlines-Horizon Edition January '15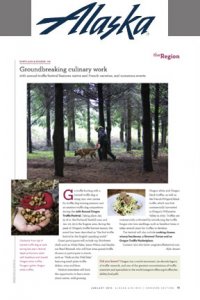 The Oregon Truffle Festival Returns for 10th Year
In the culinary world, Oregon has already gained national recognition for its beer, wine and hazelnut industries, let alone the restaurant scene itself. But within the past few years, an expensive fancy fungus has been slowly trying to break through and reach the same elevated status in the state.
"In the heart of the Pacific Northwest winter, when the sky is painted oyster grey, there is good reason to venture outside and brave the windswept rain. Hidden beneath the fertile soils of the Willamette Valley, you can discover one of Oregon's best kept culinary riches…"
The Oregon Truffle Festival is certain you will LOVE this piece in the latest edition of Portrait Magazine by Kerry Newberry. And, it includes favorite recipes from Chefs Christopher Czarnecki,  Jason French and Vitaly Paley!
HUNTING THE GREAT OREGON TRUFFLE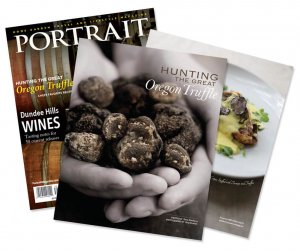 In Truffles We Trust: Do-it-yourself infusions using the world's most prized fungi.
Truffle salt, truffle honey, truffle-infused chocolate–a lot of these products are less than delicious, but that's not the truffle's fault…

To see full articles along with beautiful photography from SAVEUR, download the pdfs below.
BURIED TREASURE                                IN TRUFFLES WE TRUST