The Latest From the Oregon Truffle Festival

Festival reveals glory of Oregon's prized Fungi.
"By the second course, even if you've never had the experience of eating truffles, you learn the first abiding rule of truffle consumption: You want more.
If there are four perfect, petal-like shavings of Oregon black truffle on your plate, you want five. Six would be nice. If you've had six courses infused with truffles, you want seven. The brioche roll from Carlton Bakery dotted with a pearl of black truffle? Great, but how would it be with two pearls, or four? Unlike nearly any comestible I've experienced, the musky, earthy truffle engenders its own cycle of longing and satisfaction.
The occasion for this particular reverie was a dinner held at The Allison Inn & Spa celebrating the opening weekend of the Oregon Truffle Festival, a two-week affair in January, first in the northern Willamette Valley and then in Eugene, the event's home base."
Read entire Wine Press article by Jim Gullo.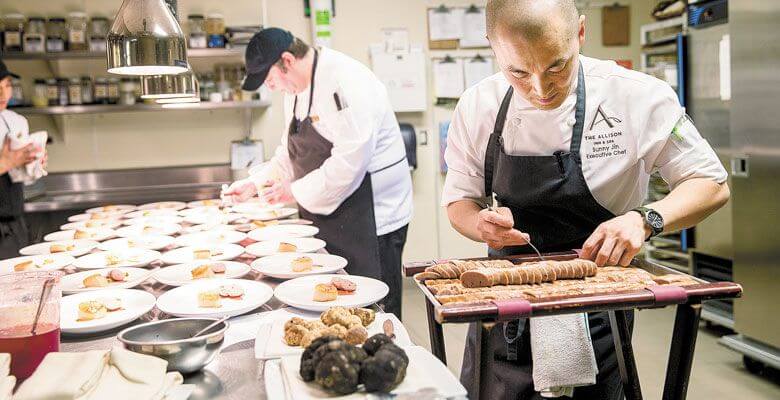 Executive Chef Sunny Jin prepares one of many truffled courses during the dinner at The Allison. Photo by John Valls.