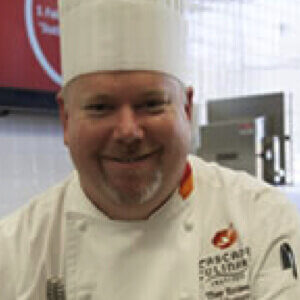 Thor Erickson was born into the restaurant industry, working since he could reach a stove, cooking alongside his Norwegian father, a restaurateur and culinary instructor. After earning a degree in Culinary Arts at Columbia Community College, Erickson established his reputation in fine dining, working at legendary restaurants Chez Panisse and Jeremiah Tower's Stars restaurant in the Bay Area. Hungry for more, he traveled to Europe, where he honed his meat cutting and sausage making skills.
After 30 years in the industry, in 2009, Erickson began teaching the craft as a professor of culinary arts at Cascade Culinary Institute at Central Oregon Community College.
In 2013, Erickson was named "Best Cooking Teacher in the World" by the International Association of Culinary Professionals, and in 2015 was invited to teach butchery and meat curing at The White House in Washington D.C.
A specialist in cheese making, butchery, and meat curing, Erickson's passion for sustainability and the fundamentals of cooking informs his courses.
Chef Erickson loves learning from his students as much as he loves teaching them.
Thor has been a regular contributor to 1859 Magazine for 5 years. He lives in Bend, Oregon with his wife, Cathy, and son, Jahn.