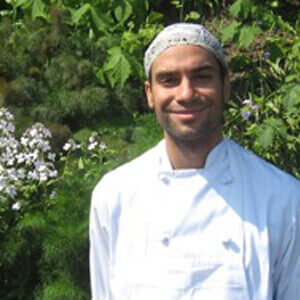 Two Birds Catering
Robin Jackson is an avid hiker, kayaker, fisherman, and a keen wild foods hunter. His particular passion is wild regional mushrooms, and many of his menus highlight dozens of varieties of fungi throughout the year.
A natural born chef, Robin started in the kitchen before he could even reach the counter, helping his mother, a chef, caterer, cooking class teacher and a food writer in northern California. At the age of 13, Robin entered his first professional kitchen at California Pasta Productions before moving to San Francisco where he continued his cooking career. Next came the Alyeska Hotel in Alaska, where its beauty and abundance of wild fresh ingredients forever engrained the love and respect for the food we grow, gather and forage. In order to familiarize himself with additional techniques, and fascinated with Japanese cuisine, Robin also worked in sushi and Teppanyaki kitchens to further hone his skill as a chef and understanding of ingredients.
Eventually landing at world renowned Sooke Harbour House on Vancouver Island BC, Robin deepened his understanding of locally grown, seasonal foods such as tuberous nasturtiums and tuberous begonias in their wild habitat and harvesting more seeds, ideas and techniques.
Sooke Harbour House has long been an experimental training ground for some of the most creative chefs in the world. Chefs like Michael Stadtlander, Rene Fieger, Melissa Craig, Andrea Carlson, Peter Zambri, Brock Windsor, Marc-Andre Choquette and many others have left their mark at Sooke Harbour House.
Robin is also an active Slow Food member and works to promote the values of Slow Food internationally. Robin continues the tradition of culinary experience at Sooke Harbour House with his own business Two Birds Catering, and not only serves great local food, but educates the diner about wonders of wild indigenous foods, edible flowers, herbs, mushrooms and sea vegetables available to all right in our backyard.