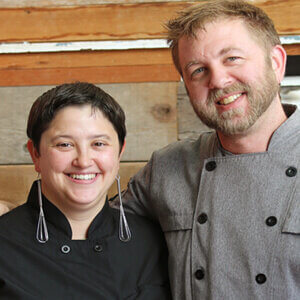 Jonathan & Alexandrea Hoffman
Chefs Table, Dough Dough Bakery
Jonathan and Alexandrea Hoffman believe in the power of food. Buying the best ingredients and treating their patrons as if they were feeding their own loved ones sets them apart from most. Foraging and working with local farms is something that seems like a smart idea and not simply a trend to follow.
Jonathan was born and raised in Oregon, a graduate of Scottsdale Culinary Institute and has been working in kitchens since he was 15. Influenced by many hours in the kitchen watching and learning from his mother, father, and grandmother he has always been interested in cooking. In middle school Jonathan moved into the city and was able to have cable tv which meant Food Network. With his mind open to the knowledge that he could have a career based solely upon the wonderful times he had spent in the kitchen alongside family, that was the moment Jonathan decided that Chef would be his future title.
Alexandrea pulls much of her cooking inspiration from her Mexican mother. Her love of cooking was instilled at a very young age in the kitchen with both parents. Growing up the "weird kid" who brought sack lunches with tofu and kumquats to school helped to shape her pallet and personality. A career in food service was never a thought until 2014 when she was asked to prepare the food for a friends wedding. Just a few short months after meeting Jonathan in 2015 her path took a drastic turn into the baking world.
Dough Dough Bakery began as a wholesale bakery in the spring of 2012. The bakery was started by chef Hoffman in order to supplement his private chef business. Over time the bakery gained popularity and Jonathan gained an Alexandrea who had already started her own catering company. She quickly picked up the baker lifestyle and added more depth with her own recipes and flair. On June 15th of 2017 Alexandrea and Jonathan took their wholesale operation and added a storefront. A pizza oven and a liquor license soon followed. Now they not only offer a variety of pastries and breads, but also pizzas on Mondays nights and Tapas or pop ups on Friday nights.