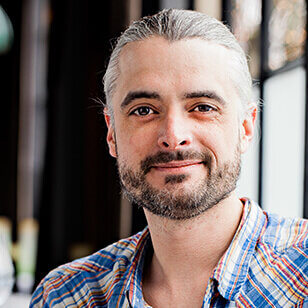 Chef Dustin Clark's rise to Portland's culinary elite, stemmed from an innate Pacific Northwest Cuisine sensibility: source the finest local ingredients, know your farmers and make lasting relationships, follow your passion, and the cuisine will reflect the integrity.
After attending New England Culinary Institute in Vermont, an externship provided Dustin the inspiration to relocate from his home in South Dakota to Portland, Oregon. Dustin's first few years were split honing his skills between restaurant legend, Zefiro, and what would come to be known as the legendary Pacific Northwest Cuisine restaurant, Wildwood – two groundbreaking restaurants in Portland's modern dining history. Under the tutelage of Wildwood founder Cory Schreiber, Dustin quickly climbed the ranks, reaching Executive Chef within a few years. Dustin is widely recognized as having elevated Wildwood to its iconic status through his innovative palate and flavor combinations, rigorous technique, as well as being one of the earliest adopters of farm-to-table cooking.
In his current role of Executive Chef at Besaw's, Dustin explores the opportunity to to elevate the game on classic comfort foods, and evolve yet another Portland institution. His long-standing farmer relationships and love of quality product are helping establish the new location of Besaw's as a neighborhood staple. Next door, the menu at The Solo Club, where Dustin is Executive Chef and Partner at the jewel-box bar, draw inspiration from his travels from around the globe with influences as far away as the Mediterranean and Asia. When he's not at work in one of his kitchens, Dustin can be found tinkering in his garden, where he grows several varieties of the world's hottest chiles, or playing with his cat Bovine.