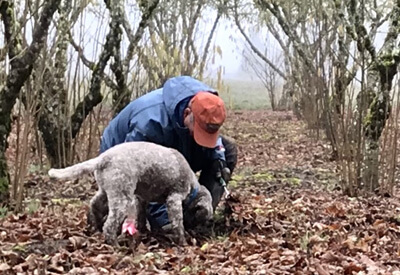 2024 Truffle Farming A – Z
Event Details
Thursday, February 22 @ 4pm – Saturday, February 24 @ 4pm
Truffle Farming A – Z
Thursday, February 22 – Saturday, February 24
Venue: OSU LaSells Center, Corvallis, OR
Truffle Farming A – Z is a ​two-day gathering designed for beginning stages and prospective truffle growers​ that includes lectures, comprehensive case studies, a day in the field, and touring established orchards.
Led by Dr. Charles Lefevre ​of New World Truffieres, this forum also welcomes renowned experts, including Dr. Shannon Berch​, a researcher for the Government of British Columbia, and the Spain-based mycologist Christine Fischer.
The workshop begins with a reception on Thursday, followed by two days in the classroom and the field. In addition to workshops and time in the field, the schedule includes a movie with truffled popcorn, breakfast on Friday and Saturday, lunch on Friday, and a truffle and wine dinner on Friday night.
Recommended lodging:
Hilton Garden Inn Corvallis
2500 SW Western Boulevard, Corvallis, OR 97333
https://www.visitcorvallis.com/account/hilton-garden-inn
Hotel Corvallis
350 SW 4th Street, Corvallis, OR 97333
https://hotelcorvallis.com